Welcome to the companion website for Hip Hop Africa: New African Music in a Globalizing World, edited by Eric Charry (Indiana University Press, 2012).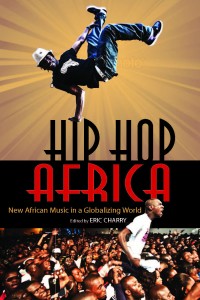 Hip Hop Africa explores a new generation of Africans who are not only consumers of global musical currents, but also active and creative participants. Eric Charry and an international group of contributors look carefully at youth culture and the explosion of hip hop in Africa, the embrace of other contemporary genres, including reggae, ragga, and gospel music, and the continued vitality of drumming. Covering Senegal, Mali, Côte d'Ivoire, Ghana, Nigeria, Kenya, Tanzania, Malawi, and South Africa, this volume offers unique perspectives on the presence and development of hip hop and other music in Africa and their place in global music culture.
All authors' royalties earned from the sales of this book will be donated to artists and nongovernmental organizations (NGO) working to improve the lives of young Africans through music or dance. The recipients in our first years of publication are:
Abdul and Abramz are both founding members of Breakdance Project Uganda. Bgirl Key is a member, teacher, and former student of BPU.
Purchase book at Amazon
Preview at Google Books
Book cover photo credits: Ugandan B-Boy Abdul Kinyenya, founding member of Breakdance Project Uganda; crowd at performance of Senegalese hip hop group Tigrim-Bi (Dakar, 2010). Photos by Magee McIlvaine.
Reviews

"an impressive collection of essays that fills a crucial gap in hip hop studies, popular music studies and ethnomusicology. Its diversity of themes, research methodologies, national idiosyncrasies, historical narratives, and an impressive discography and videography, make for a deep and valuable resource. Hip Hop Africa will be an important book for any future research on hip hop throughout Africa." (Journal of World Popular Music, 2014)
"a welcome addition to the growing scholarly literature on African hip-hop music and cultures. . . . Readers will especially appreciate the contextualitzation of hip-hop music within a wider popular cultural context on the continent . . . The extensive bibliography in this collection will also offer the most voracious reader and researcher of hip-hop a large source for more data . . . offers rich historical material in understanding the historicity of hip-hop music in Africa." (Journal of African Cultural Studies, 2013)
"an impressive collection of case studies from prominent ethnomusicologists and anthropologists . . . addresses the new frontiers and expressive cultural routes of hip hop, emphasizing the linguistic and cultural diversity that African urbanites have brought to bear on this global art form. . . . recommended for scholars and students with an interest in contemporary African popular culture and urbanism. Given the breadth of its content, it will be a particularly useful resource for graduate and undergraduate courses on global hip hop, African popular music, and urban African culture." (Research in African Literatures, 2013)
"impressively details hip hop's evolution throughout Africa . . . [and] presents important arguments in African hip hop scholarship, including discussions on African hip hop's linkages with US hip hop, and debates over authenticity and imitation. . . . . The authors in the volume provide extensive background information on hip hop's evolution throughout Africa . . . much of the volume's strength lies in its examination of local hip hop scenes . . . a good look urban music in Africa . . . a solid contribution to scholarship on African hip hop. (African Studies Quarterly, 2013)